Pools
AQUA LINES in its own factory producing swimming pools of all types, shapes and dimensions. There is a couple of basic types of swimming pools.
SKIMMER SWIMMING POOLS
Most common swimming pool for the families is this one.

Water level is 10cm bellow of the swimming pool top. Water from the pool goes to filtration through skimmers (70%) and through suction nozzle (30%).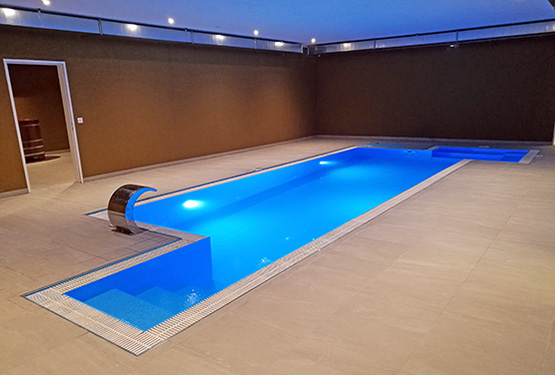 OVERFLOW SWIMMING POOLS
Most of the public swimming pools have to be overflow. Water surface is on the level of surrounding, which gives beautiful visual effect. Water goes to filtration from the pool by overflowing to flow canal, which is around the whole swimming pool. That way water by gravity goes to compensational tank and then to filtration.
COMPACT SWIMMING POOLS
Many years of the experience, as well as needs of our clients spur us to develop a special type of the swimming pool, so-called compact swimming pool. Skimmer and overflow variants are both available for this type of pool. That is a swimming pool which have integrated compartment for all technology, as well as for compensational tank in a case of the overflow compact swimming pool.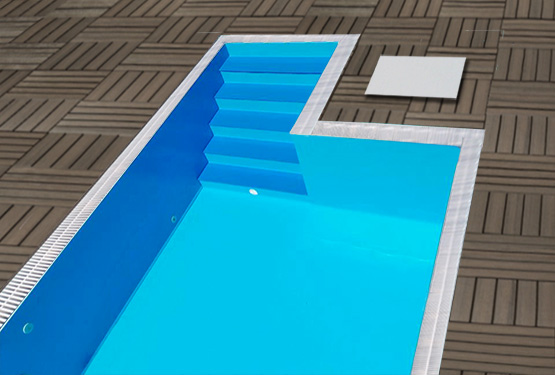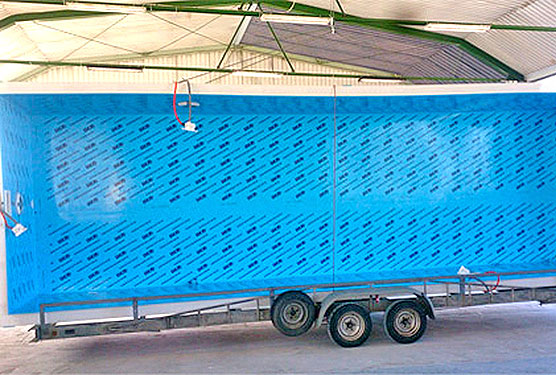 TRANSPORTATION
All swimming pools, up to 9x3,5x1,5m, we can transport as finished on the building site.

Swimming pools are transported on a special trailer and on the building site it can be installed in one day.
SWIMMING POOL MODELS
There is a couple of the most common swimming pool models.
PHASES OF WORKS WHEN THE SWIMMING POOL ARE BUILT ON THE SITE
Swimming pool are equipped with all necessary equipment which is attached to the pool body (nozzles, skimmers, underwater lights, stairs, hydro massage…) and as pre-installed he is transported to the building site. On the site, swimming pool is placed in the construction hole which is prepared before according to our detailed instructions for the construction works. When swimming pool is placed in the construction hole, all installations (pipes and electric) are connected with the command room, which is room where are placed all the swimming pool equipment (pumps, filter, chemical treatment units, water heating systems…). After all of the installations are connected, the second part of the construction works start and after that arrangement of the pool beaches, paths and surrounding of the swimming pool can be done. Swimming pools with dimensions above 9 x 3,5 x 1,5m are built on the site and it takes from 4 to 7 days to be built. To build on the site means slightly different construction preparation of the site and finishing construction works.
STAIRS IN THE SWIMMING POOL
AQUA LINES swimming pools have a series of solutions for the stair cases in the pools. Starting from classic stainless steel ladders with 3 to 4 steps, up to a lot more comfortable solutions which are built of non-slippery polypropylene sheets.

Next to this standard types of stairs, we are ready to follow ideas and wishes of our clients with a goal to find best and most optimal solution for every wish and needs.

The most built stairs are:
Inside corner stairs
Inside corner flat stairs
Inside roman stairs
Outside roman stairs
Inside corner wide hydro massage stairs
Inside roman wide hydro massage stairs
Outside roman hydro massage stairs